Make all your sales more efficient with cloud-based POS.
Merchants have come to expect instant, anytime, anywhere access to the data that matters most. Cloud-enabled tablet POS systems make this a reality with fingertip access to sales and inventory data anytime you need it.

So what are the advantages of a tablet-based POS system for small business owners consider making the switch to a mobile device or tablet? Here are some of the key benefits.

Cost Savings

Our cloud-based tablet POS systems can be up and running with minimal up front fees. Cost-savings also extend across the lifetime of the service. Fees are billed monthly which include software upgrades.

Ease of Management

Not only does cloud-based POS cut the costs involved in managing your systems, it also streamlines their management.

All the software upgrades are instant; trouble-shooting is taken care of by us, and your applications and data are securely backed-up and stored within the cloud.

No need to invest in additional service contracts or IT headcount.
Questions? Call Us

(407) 331-5465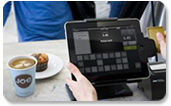 Mobile payment platforms that turn your tablet
into a credit card processing device have become increasingly popular with hospitality merchants.Our POS tablet gives you the mobility to take credit card payments right at the customer's side dramatically improving your operating efficiency.
POS technology is evolving beyond being a convenient way to swipe credit cards on-the-go. Mobile POS systems will not only turn your tablet into a cash register, they offer fully-fledged business management tools including CRM services, inventory tracking, loyalty program integration and employee management tools – all made possible thanks to the power of cloud computing.
Boost Your Productivity
For restaurant owners Incorporating a tablet POS can help you turn more tables by streamlining the ordering process by seating more customers in less time. Servers simply swipe the credit card orders at the table and allow customers to sign directly on the tablet rather than standing in line at the cash register when they're done.
Marketing at Your Fingertips
With our tablet solution you'll have the option to email receipts to customers instead of printing them out. This cuts back on paper costs and helps reduce waste, but it also provides you with a medium to email promotions and offers to your customers. With a majority of individuals with their mobile devices right at their side you're sure to create many return visits.
Leave a Smaller Footprint
With enclosures, employees and managers can either operate their tablet technology while it is mounted on a wall or counter, or they can easily remove the device from its docking base to go mobile in a matter of seconds.