Join our partner program and increase your profitability.
We designed our Vendor Alliance Program to set you and your customers apart from the competition by providing best-in-class payment processing and management so you can focus on

AMS is your all-in-one resource to bring complete merchant services into your integrated solution. We offer security, reliability, and over 20 years of industry knowledge in managing the ever changing landscape of regulatory and interchange adjustments.
Understanding interchange rates can be complicated because the payment brands do not have one set rate that applies to every industry or every transaction. Additionally rates are adjusted throughout the year. We can also help you with the following:
Value Added Services - We'll help you expand your offerings with additional services such as our Breach Assurance/PCI Compliance Program and Mobile and Wireless payments.
Customer Retention and Loyalty - Our world class customer service and solutions can strengthen your relationship with your customers.
AMS's Partner Program provides many ways to differentiate your business and drive growth and profitability for your company.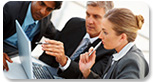 The AMS Vendor Alliance Program program requires no special technical experience, expertise or knowledge about how merchant accounts are setup or maintained. We provide the merchant account activation and support services for you to complete the final piece of your integrated payment solution. AMS can help you close deals and improve your retention rate with your clients that need electronic payment acceptance.
AMS will talk directly to your customer regarding card type acceptance, discount rates, and other key issues. AMS will assist the customer in completing the necessary paperwork, leaving your organization free to focus on your product installation or Web site integration.
Most importantly, AMS provides the ongoing direct customer support for your clients' processing needs. Our 24-hour Help Desk service is available to all your customers who participate in our programs.AMS has developed and implemented this specially designed program for those companies that wish to significantly reduce their involvement in the increasingly complex business of Visa/MasterCard processing and merchant support of the electronic payment services they offer their clients.
Become an AMS partner To take advantage of all the benefits available, there is no cost to sign up, so get started today!
Questions? Call Us

(407) 331-5465