The most cost-effective method of delivering invoices
.
Over 80% of Americans choose to pay their bills online, PayConcierge gets your agency or business connected with your customers electronically creating a win-win for both parties.

•

Reduce labor and mailing costs

 

•

Faster delivery and presentation of statements/invoices

•

Paper suppression

•

24/7 access to statements/invoices

  

•

Presentation of statement, invoice, notice, and account statement summary and detail
information

•

Adherence to open, interoperable standards, such as OFX, IFX, and XML, to ensure a far‐reaching EBPP solution that promotes greater consumer adoption

•

Gain financial control and strengthen compliance




•

Customers and CSRs can view, save and print the electronic version of their statements

Questions? Call Us

(407) 331-5465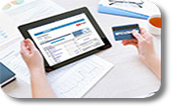 Customers using the PayConcierge CompletePay solution will have the convenience of viewing and paying their bills online as well as receive notifications via email and SMS, view exact replicas of their paper bills, store bill images, create a digital wallet allowing both ACH and Credit Card information all while being stored in a fully PCI compliant environment
PayConcierge's presentment application enables Customers and CSRs to view, save, and print the electronic version of their statements through Adobe's Acrobat Reader. This is important in the customer adoption process of online presentment as it provides an additional level of comfort to the customer that they will not lose their statements. In addition, it helps to meet the regulations for turning off paper printing of customer statements.
If your Utility or business is considering an electronic billing and payment system there are many benefits that you can enjoy such as:
Cost Savings for You and Your Customers - Consider how much paper and postage is utilized during the year to mail invoices/statements to your customers.
PayConcierge can electronically deliver the statements and also allow your customers to make payments online. You benefit by reduced paper handling and mailing costs. Also, your customers don't have to purchase postage, or manually make payments either by mail or coming into the office.
Electronic Statements Match the Printed Statements - System statements within PayConcierge are PDF reproductions of the statements your customers receive. So, customers don't need to learn a new format. Most agencies or businesses have spent a great deal of time and effort to ensure all the data on the invoices is complete and formatted to their specifications. PayConcierge allows you to protect that initial investment.