Empower CSR's to manage the entire customer experience.
The PayConcierge Biller Console is an integrated web application that allows CSR's to accept paymens for customers whether they are internet enabled or not. CSR's can view bills, payment history, reports and more.

•

Reduce customer billing expenses

 

•

Increase cash flow

•

Improves customer satisfaction

•

Track payments in real-time

  

•

Resolve customer inquiries quickly

•

Provide cross-sell opportunities

•

View/ accounts, documents, payments and messages

•

Activate and configure accounts for new customers, perform research and search for enrolleed customers

Questions? Call Us

(407) 331-5465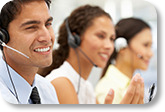 PayConcierge's Biller Console provides your CSR's with a secure, web‐based administrative console where they can have access to customer data quickly and efficiently. The Admin Console is fully integrated with our web and mobile solutions to provide a single, consolidated approach to research, reporting, and payments.
Accepting payments over the phone provides many advantages for those who prefer to speak with a customer service representative to help resolve issues quickly concerning missed payments, billing errors or utility shut offs.
CSR's can also provide your customers with promotional information, new service offerings and website banners. Billing history and information can be retrieved in real-time increasing efficiencies and response times. Reports can viewed, created and exported, customer enrollments, payments and queries can also be managed.
A wide variety of reports are available in the Admin Console for transaction details, enrollment activity, CSR activity and cash forecasting. Reports can also be created to suit your agency or businesses individual requirements.
The PayConcierge Biller Console provides tools that get things done quickly for your customers and allow you to quickly access customers' statements, payment history, and account info, process payments in person or over the phone, and access comprehensive payment and settlement reports.