Hosted 24/7 telephone payments to streamline bill collections
.
Reduce costs through self-service and provide payment flexibility for customers. Billers can inform customers of the payment amount due and the due date and make payments via ACH and credit card.

•

In-bound calls for balance inquiry and payments

 

•

Out-bound calling for payment reminders or alert

•

Support for multiple languages

•

Support for transferring caller to local CSRs

  

•

Optional support for transferring to outsourced CSRs

•

Unlimited in-bound volume

•

Optional support for payments by SMS

•

Voice or keypad data entry

Questions? Call Us

(407) 331-5465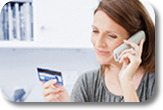 PayConcierge IVR offers organizations a more elegant, secure, and cost-effective way to deliver a high-quality, multi-lingual customer experience. PayConcierge IVR provides a quick and efficient path to the cloud. Built with our powerful cloud-based platform, the application can be up-and-running in less than a few weeks.
PayConcierge IVR is fully equipped to scale with your changing organizational and customer needs. From secure call recording to detailed analytics, our IVR solution incorporates all the features a business or government agency expects.The IVR platform is HIPAA, PCI Level 1, and SSAE 16 Type II compliant and served out of geographically dispersed, highly redundant, Equinix data centers.
Ease-of-Use
Award-winning, on-demand CX Builder is PayConcierge IVR's unique point-and-click tool that makes building, deploying, and managing inbound IVR applications fast and easy.
Transparency
Actionable data from CX Analytics provides end-to-end transparency and drives strategic business decisions for iterative improvements to inbound IVR applications.
Multi-Channel
PayConcierge Inbound IVR allows you to be where your customers need you to be - on chat, SMS text, mobile, phone, and so much more.