Leverage tech savvy customers by providing mobile payments
.
PayConcierge's QuickPay Mobile optimized browser gives your customers' access to the bill payment platform via a variety of devices such as smartphones and tablets.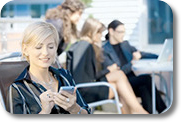 PayConcierge's QuickPay mobile optimized version gives customers' access to make one-time payments from a variety of devices such as smartphones and tablets. The mobile friendly version which does not require an app to be downloaded provides the same capabilities your customers are familiar with from accessing the online version via PC.
Enabling your customers to pay by phone is easier than you think, and can help improve sales and customer loyalty. By providing mobile payment options, you can expedite the payment process and better serve your customers. Not only can you capture payment information, but you can learn about your customers and use that information to improve the level of service.
Meet the demands of today's consumers, who increasingly prefer to view and pay their bills on the go with PayConcierge QuickPay for mobile devices.