Analyze customer and transaction data across payment channels.
An extensive set of reports are produced in real time within the payConcierge Biller Console and can be produced using a variety of report parameters.

Here are just some of the reports that are available:


| | |
| --- | --- |
| • | Enrollment Report  |
| • | ACH Transaction Report |
| • | Credit Card Transaction Report |
| • | Credit Card Expiry Report   |
| • | Account Activity Report |
| • | Notification of Change Report |
| • | Failed Payment Report |
| • | CSR Activity Report |
| • | Automatic Payment Report |

Questions? Call Us

(407) 331-5465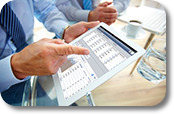 Online report access is available through the PayConcierge Biller Console. Our online reports can be generated in real‐time for a specific date range as often as you prefer. All reports are viewed in a visually rich HTML format with download capability to PDF and CSV.The browser‐based application allows authorized employees to run reports 24/7.
Easy access to standard reports is a key competitive advantage of the PayConcierge platform. With a large library of standard reports, and a very easy to use interface reports can be easily queried based upon your specific needs. All of our reports run in "real-time" so the information is constantly up-to-date.
Reporting is a great tool for transaction analytics but always having the correct tools on hand can greatly reduce the length of a call for your CSR's and also empower them to provide the best care for your customers.