Branding, advanced customization and control over the layout.
Take advantage of cost savings from the elimination of paper bills, more efficient accounts receivable operations and faster payment posting by providing web-based payments to your customers for their convenience.

•

Biller-controlled website look and feel 

 

•

Scheduling of single or recurring payments

•

Due date reminders

•

Biller-managed consumer communication tools 

  

•

PCI and NACHA compliant

•

Robust recurring payment engine

•

Customized reporting

•

Integrated document composition

•

Highly configurable fee plans

•

Multiple channel support

•

Paper Suppression

•

Customized reporting

•
Multiple users per account           
Our web payment channel provides you with branding, advanced customization and control over the layout with the ability to include your company's logo, bills can be further customized to include key highlights and targeted messaging to your customers.

Questions? Call Us

(407) 331-5465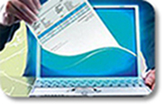 PayConcierge CompletePay is optimized for customers who wish to sign up to view and pay their bills online or setup recurring or future payments. These customers can utilize the enrolled website to receive notifications via email and SMS, view exact replicas of their paper bills, store bill images and create a digital for ACH and credit card.
PayConcierge QuickPay provides customers with the ability make a one-time payment from a secure, web‐based Customer‐facing solution; branded to match the look and feel of the biller for both ACH and Credit Card payments. The one-time payment option can ease tentative customers into the process of paying their bills electronically without requiring them to enroll in full bill presentment.
Either solution is based on the needs of your customers, giving them the payment options they want. Your business or agency's branding takes center stage, while we work with you to bring it all together.
Five Steps to Easy Adoption

•

When the customer first visits the website they will view the Bill Lookup . Tthe Welcome page gives the customer an overview and lookup capability.




•

The Bill Presentment screen provides an electronic version of the customer's bill summary. This would include information such as amount due along with name, address, city, state, zip.

•

The Payment Information screen is where the customer provides their ACH or credit card payment information. Service fee information is also displayed if applicable.

•

The Confirmation screen displays information that is similar to the Bill

Presentment page along with their method of payment.

•
The Receipt provides each customer with basic payment information along with a transaction confirmation number.