Process transactions online from your favorite web browser.

PayConcierge is one of the latest solutions available to both our partners and merchants. This fully customizable solution combines our virtual terminal, reporting suite and merchant boarding tool into one access point.


A comprehensive real-time suite of reporting is available to both partners and merchants with PayConcierge. The suite includes:

• Reporting for Sales, Declines, Errors, Batch Summary, and Batch Detail

• Hierarchy viewing for single and multi-locations

• Tools to view current open authorizations, last settlement date and amount, and unsettled transactions

• Permission level viewing access set by Admin user for partners and merchants

• Partner access to portfolio to view transaction data and billing
Boarding Tool
Used only by our reseller partners, the Merchant Boarding Tool enables the partner to easily set-up a merchant gateway account for their customer.
• Immediate account activation

• Requires the input of only a few customer data elements to open a merchant gateway account

• Create and customize fee templates for unique opportunities to speed the boarding process
Questions? Call Us

(407) 331-5465

Managing your payment processing online has never been easier or more centralized by using PayConcierge. Once you login to the application you'll have the ability to customize the dashboard to view account information that is most important to you. Navigating through PayConcierge is incredibly user-friendly reflecting technology most of us use on a daily basis.
The virtual terminal (VT) is a valuable tool for both merchants and integrators. The VT allows the user to process all types of electronic transactions in both a single and multi-transaction environment from any Internet accessible location.
AMS's virtual terminal credit card processing services can help expedite your payments for quick, efficient and secure service. By entering credit card sales from your PC, you can speed up the authorization process and improve your bottom line.
Virtual Terminal Transaction Screen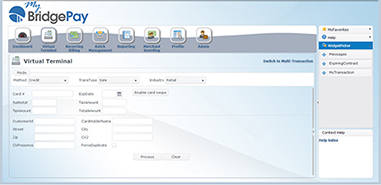 •

Tool for both VT-only users and as secondary or back-up option for POS



•

Access the recurring billing module for scheduled payments while utilizing Token Guardian, our secure vaulting product



•

Supports retail, restaurant and direct marketing/MOTO (mail order telephone order)



•

Supports several hardware peripherals for card present transactions, pin-based transactions and checks



•

Supports Credit, Debit with PIN, EBT, ACH, FSA, Level II & III Processing, Loyalty Card and Check Verification & Guarantee payment methods